The Computer Club at Western Michigan University (also known as Computer Club, CClub, club, CCaWMU, CC@WMU, CCOWMU) is a Registered Student Organization at Western Michigan founded on October 1st ,1976 by James Sleep and Jay Martin with the intent of promoting a better understanding of computers for members of the WMU community. At over 40 years old, Computer Club is one of Western's oldest ongoing RSO's.
Computer Club currently acts as a community of computer programming enthusiasts that hosts its own chat services, events, and server services for students in exchange for an annual membership fee of $10. Below are a few of the services Computer Club provides:
Server services for net development and other such academic pursuits.
Chat services for communicating with members for assistance with schoolwork.
Workshops on a wide range of topics from OpenGL programming to composing music on an original gameboy.
Hardware and books on loan to members.
Networking opportunities with alumni.
Private tutoring by fellow students.
History
---
The Dark Ages (1976-1993)
This era is referred to as the dark ages by presto and few else because little is known from this era outside of the occasional anecdote from Bob Hardin or Robert Trenary. We know that club activities involved things such as hand-wiring computers, as personal computers were not yet commonplace. Unfortunately, most information from this age seems to be lost to time.
The Yakko Era (1994-2015)
Yakko first came online in 1994 and would become something of a nexus for club projects for the 20 years that would follow. Yakko was always in a state of flux, frequently changing location, hardware, software, etc. and facing even more frequent crashes. Right on the outset Yakko had its plug pulled after nude photos were found on it during the Webpage Controversy of 1997. This era would something of a golden age, with influential figures such as tmiley and Flay taking power. This era would come to an end when Giggles got Yakko taken down for good during the event we know now as Gigglesgate.
After Giggles accidentally killed Yakko, the club came to a turning point. Members from the early days of the Yakko Era like tmiley would leave following the loss of about 20 years of club history. This would be made worse when club changed its chat platform from IRC to Riot, which caused many early members from even the dark ages like magoo to simply not join the new service. Whether intentionally or not, club essentially rebooted. Out were the days of geekouts, hackathons, and PLAN, and in there place came weekly talks and the occasional game jam.
Logos
---

1996

1997 (Note the "censored" bars across it in protest of the Webpage Controversy of 1997)

1998

2001

2006

2014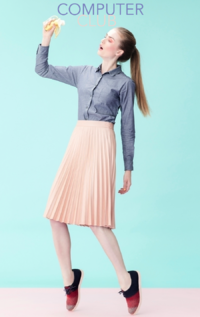 20XX