Welcome!
Welcome to Computer Club at WMU. We're glad to have you, and hope that the club will prove to be an invaluable resource for you. Here is a guide on how to get set up.
Account
Computer Club hoests a variety of services for use by club members:
Chat
Wiki
Access to our room in Kohrman Hall
Gaming PCs
Networking opportunities
To gain access to all of these features, you'll have to sign up for an account through our system. If you would like to sign up to join the club join us for a meeting in 2225 Kohrman hall Thursdays at 6pm! If you can't make it to a meeting, email rso_cclub@wmich.edu and we can set you up that way.
Chat
Computer Club self-hosts a chat service using the matrix protocol. Our chat is hosted on a server that is held in Floyd Hall, WMU's engineering building on the Parkview campus. The the open source client we use is called Element but you may some times hear it called by previous names like Riot or Vector.
Logging In
There are multiple methods for logging into our chat: our website, the Element desktop app, and the Element mobile app.
Via Our Website
To log into chat from our website start by clicking the "Chat" tab on the homepage or by visiting cclub.cs.wmich.edu/chat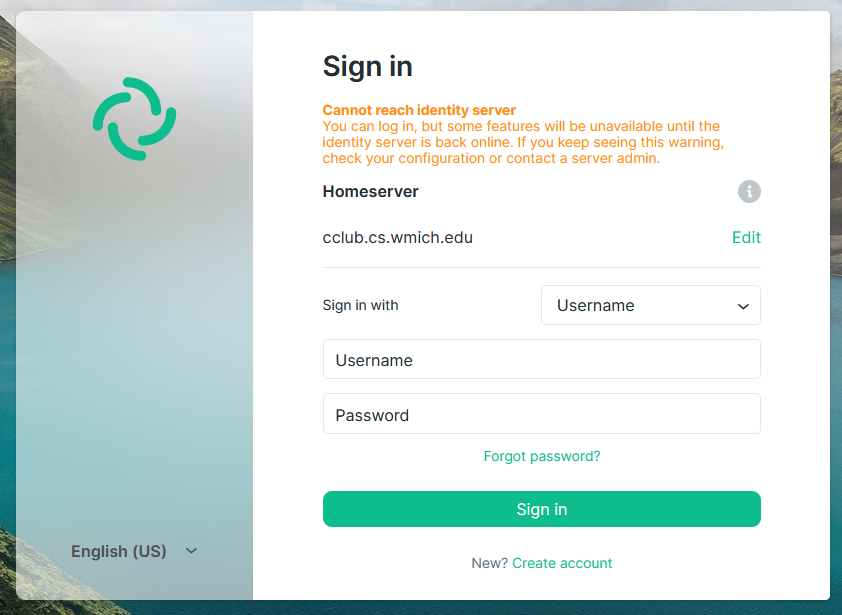 From here you can log in with your credentials
Element Desktop App
You can also download a standalone desktop app to access chat. Find the instructions to install on Windows, MacOS, and Linux here. Since the matrix protocol is decentralized, you have to tell the desktop app where our chat server lives to find us. Before entering your credentials, click "change"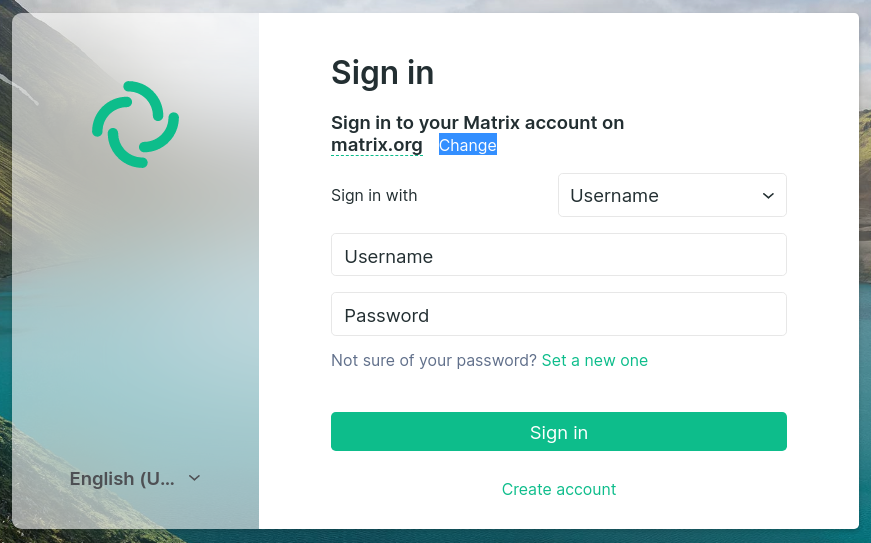 Enter https://cclub.cs.wmich.edu as the homeserver URL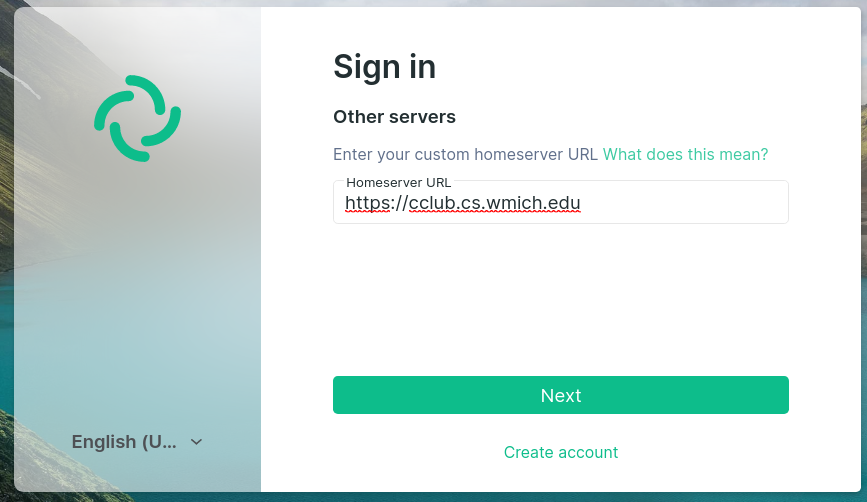 Now you can proceed to login like you would on our website.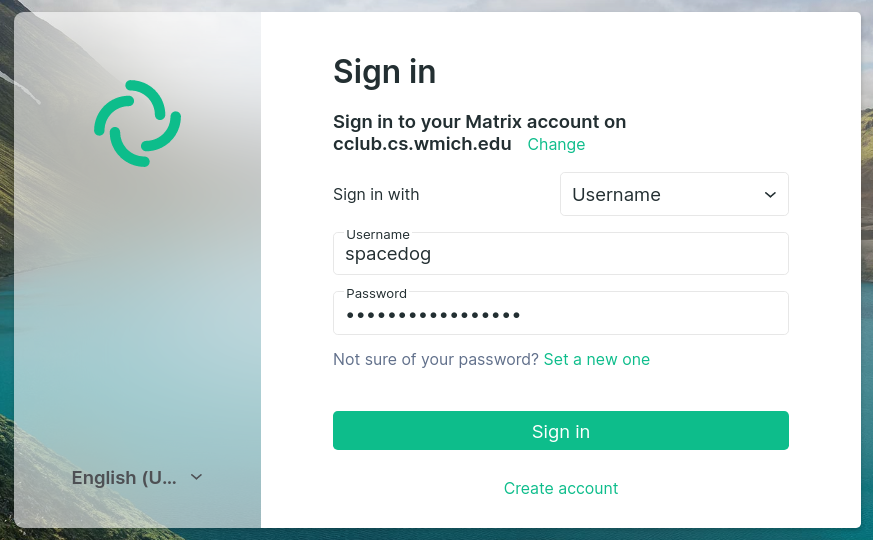 The Element App for Andriod and IOS
You can download the element app on your phone and log in from there.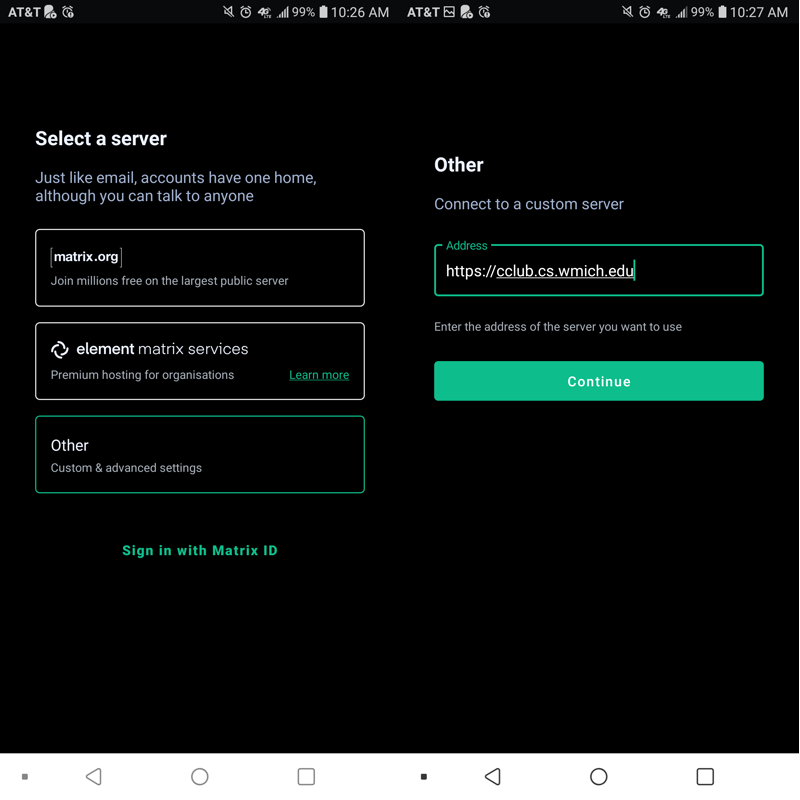 Select "Sign In" and provide your credentials.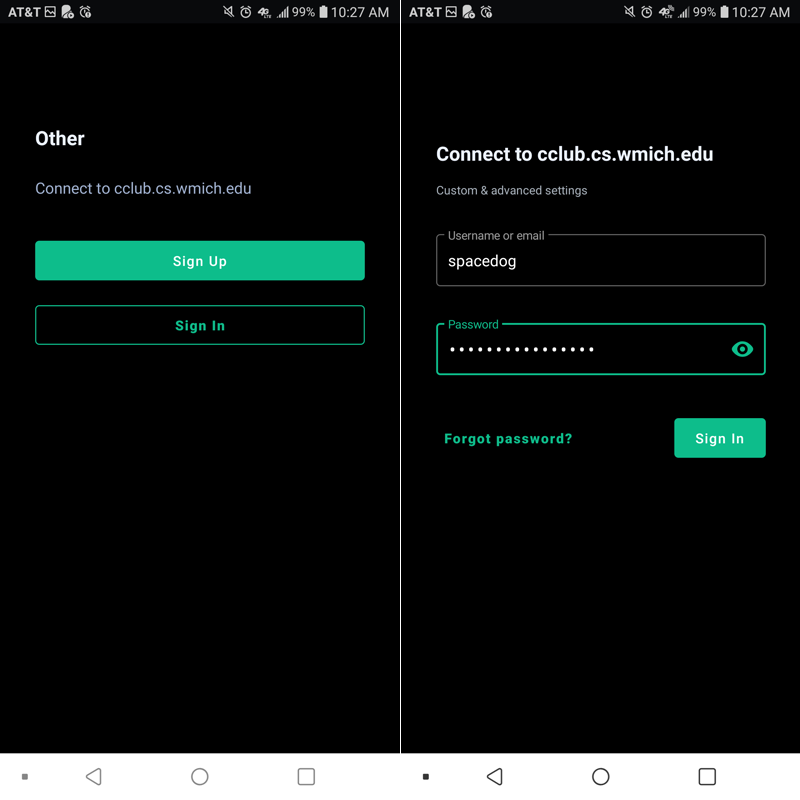 Joining Rooms
Upon first log in you will not be in any rooms. You may recieve a request to join a direct message with our bot. To join rooms on our website click the "Explore" button in the upper left.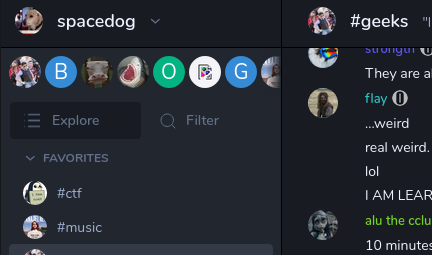 On the desktop client find the compass icon labled "explore rooms" in the upper left next to the search bar.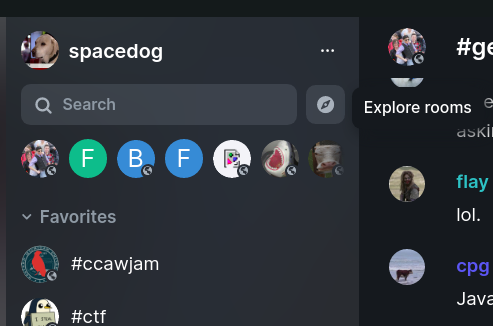 From here join our main room #geeks where we can guide you further or join any other rooms you may find interesting!
Wiki
Computer Club has a wiki on our website where you can find articles about various random computer club things. To view any link that isn't marked public you'll have to log in at the top right side of the page
Kohrman Hall
The Computer Club is lucky enough to have our own space on main campus, you can find it at 2225 Kohrman Hall. As a member you can have access to the room whenever you need it. In our room you will find gaming PCs, gaming consoles, a work station with tools, a place to study, and many other things that are assets to students.